Mission Statement
The mission of the North Brunswick Historical Society is to promote, support, gather, preserve, advance, and disseminate knowledge about the history of the Township of North Brunswick through research, collections management, preservation and/or interpretation, and to make such programs and resources available to the general public.
Our primary project is the preservation and restoration of the John Buckelew House at the Pulda Farm, all or portions of which may well be the oldest surviving structure in North Brunswick.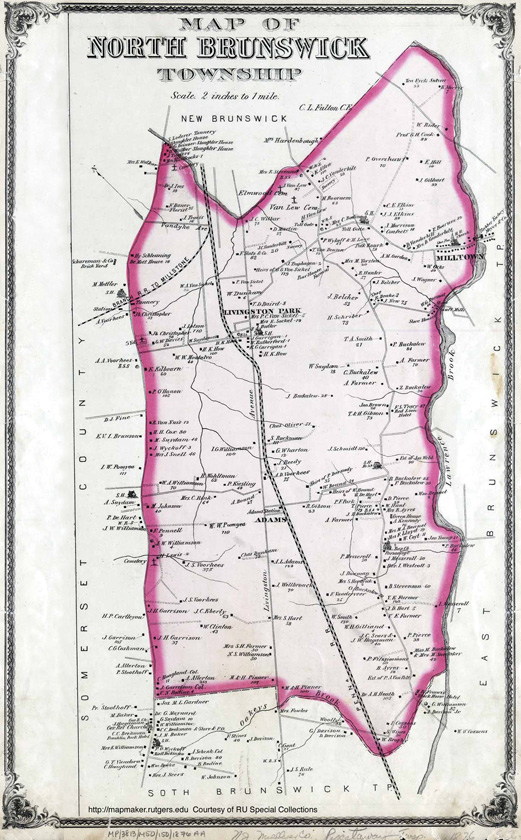 Board of Trustees
Michael C. Hritz, President
Connie Adamo, Vice President
Richard D. Liguori, Treasurer
Nansi Krauss, Secretary
Janice Larkin, Trustee
Our Local History
The land and the people of North Brunswick share a rich heritage with previous time. Long before the first European explorations along the Eastern seaboard of what is now the United States, this area was the hunting grounds of the Leni-Lenape Indian Tribe of the Delaware nation. These natives blazed foot trails through the woods which were later expanded by white settlers as a prelude to the formal roadways of today.
By the mid-1700's, land was being cultivated by Dutch and French settlers, with the first permanent settlement coming in 1761. In its earliest days, North Brunswick was within the borders of the Township of Piscataway. By decree of the Middlesex County Freeholders in 1779, North Brunswick was incorporated as a township of 36 square miles which included the entire City of New Brunswick and large sections of Milltown and East Brunswick. In 1860, a special act of the state assembly severed the acreage of these other communities and the 12.3-square mile township we know today came into being.
Along with independence, North Brunswick established a three-member government body with one member being elected president of the committee. This president, or chairman, was the forerunner of the mayoral post. The committee was enlarged to five members in 1955 and the Township Committee form of government prevailed until 1982. An elected Charter Study Commission recommended and the citizens approved the implementation of a Mayor-Council-Administrator form of government with six council members and direct election of a mayor.